Ducati Monster Review S4R
Well, I bought me one. So you could conclude I liked it after I test rode it? But after the adrenaline subsides and the grin slowly drops out your face and you see the HOLE in the bank balance, what do you really think? You see, I'm not a Journo who gets a bike given to him on the proviso he says nice things and has the bike for a couple of days! I PAID the money!!!!!!!!!!!
Here's what I think:
I review this bike in this Audio Review and look at………….
Comfort: and some changes I made to improve.
Performance: and some changes I made to improve.
Looks: and some changes I made to improve.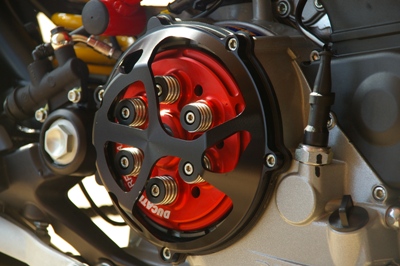 Handling: and some changes I made to improve.
It really is a sexy beast and after fitting the FULL race system, sounds an absolute treat. It goes a tad better too!!!
It's probably a funny addition to my garage coming from a long term Harley Wide Glide and Current BMW R1200GS you'd reckon something a bit more along the granny line might fit in better. But I love the little devil.
I recently did a 4,000k trip with a mate on our Beemers through NSW and Victoria and they couldn't be faulted and performed and handled like a chook chaser shouldn't. We even tried to pick faults over a few beers each night but couldn't really find anything worth penalising them for.
However…………
As perfect a touring bike the BMW R1200GS is, I couldn't wait to get home and take the Little Duke for a blast.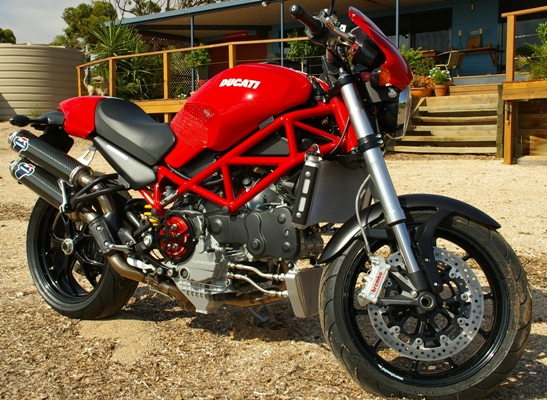 In fact almost as soon as I unpacked the BM I threw the Monster in the van and headed for a few days in Adelaide and the HILLS!
It was nagging into my subconcious almost the whole trip. The Duke's wildness gene was gnawing at me and needed to be scratched. It always has that effect when I enter the shed. Drawing my eye and begging to be started just to hear the growl.
The Ducati's not perfect! I tell it warts and all here. If your thinking of buying one I hope my review can help you.
Simply click on the Play Arrow and the audio review will start.
Got a Comment? Email me here and I'll publish your comment underneath.
Comments:
On July 3rd, 2008, David said:
Excellent content, and engaging speaking style. I enjoyed it very much, thanks.
FYI, I've pretty much settled on a MutiStrada 1000S, but do keep looking at that TriColore S4RS… tough decisions!
David
Japan
I Replied:
That Tricolore is HHHOTTTT!!!!! I couldn't justify the spend but considering it will be the last Monster it would be a sweet one to have. The Multistrada looks like a good everyday bike, not something I'd call the S4R. Glad you enjoy the stuff, thanks!
Cheers
Andy