(Australian Road Rider Gets David Davo) Jones To Ride Across Australia and Back! In Under 6 Days!!!

How To Cover Long Distances On your Motorcycle Around Australia.

In this podcast Andy interviews David "Davo" Jones from southern Queensland who has ridden and continues to ride phenomenal distances by motorcycle.

If you've ever had a hankering, like I have to do some big days on the bike? You will love this interview. Davo is a very personable bloke who tells it like it is without a big head, and simple matter of fact honesty. You see, all the rides Davo talks about are documented and ratified and that means proven!

How does 1600k's in 24 hours sound? I know someone else who has done that, big deal, you say?

Then try 2464 k's in 23 hours 21 minutes

or 4430 k's in 45 hours 22minutes

or 2724 k's in 23 hours that's Darwin to Port Augusta, check it out on a map!

or 6370 k's in 3 days 22.5 hours

or how about this one! 10,274 k's in 5 days 21 hours and 17 minutes from Byron Bay in N.S.W to Denham in W.A. and back.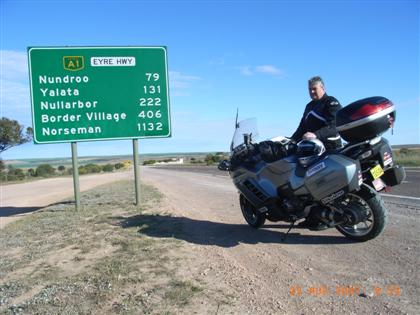 And before you label Dave as irresponsible, reckless and a speeder then you better listen in because Davo tells you how he does it solely with safety and speed limits in mind. In fact he can't get his ride ratified if the average speed exceeds the posted speed limit.
I was in awe during this interview, Davo knows his stuff and can certainly teach the rest of us a few things, even if it's as simple as get your bum on your bike more often.
Davo covers, trip planning, tiredness and fatigue, bike communication, lights and spotlights, trip preparation and much much more. I'm sure like me you will be enthralled by Davo's accounts of his transcontintal exploits across this wonderful country, Australia.
To play the audio simply click the button below.
Davo also runs three websites too, and you can check them out here.
Long Distance Riding Australia
How does 10,367 km in 5 days, 21 hours, and 17 minutes sound for a quick ride? Peter (The Bear) Thoeming asked David (Davo) Jones to take the Kawasaki 1400 GTR description of "Transcontinental Tourer" literally and be the first to cross Australia and return on this brand new bike to validate the term.
A couple of months ago I interviewed Davo and he let out the bag he had just completed this ride and was waiting for the publishing treadmill to roll around to getting it in print. It's a great read in the Jan/Feb issue of Australian Road Rider where Davo tells all about the trip and the bike.
If long distance riding is your bag and this article gets you sweating to jump on your bike for days on end? Have a listen to Davo's interview and get the tips and lowdown you'll need to know make it real.
You can also learn more about Davo and Long Distance Motorcycle Riding. here