Ducati Hypermotard vs Ducati Monster
I did a poker run the other weekend around the Flinders Ranges on Wilma the Wideglide. After spending over $11,000 on rebuilds and replacement parts in the last three years and having her running like a potent swiss clock you'd reckon I'd be happy.
She runs smoother than ever with way more power yet something just didn't feel right.
I wasn't getting the grin I used to. I'd been in the Harley scene for 14 years and done a ton of rallies, had the badges to prove it, even run out of room on my jacket for the yearly rockers from H.O.G. and somehow came to realise as I was powering home from Port Germain, I'm over it, I'm ready for a change. And yet I thought I'd keep Wilma the faithfull Wideglide forever.
I guess the BMW R1200GS sitting in the garage spoiled me for a bike that handled, stopped and went well, and got me hankering for a taste of a little bit of exotica.
So I put Wilma up for sale and within my Harley group one mate had a mate looking for just my typre of well loved and cared for ride. So it seems she is gone from my life. The memories I get to keep and I had a real ball with Wilma travelling 120,000 k's around this country.
So what to replace her with? I mean I could put the money on the house payment but where's the fun in that. Besides the Beemer has gotten used to a stablemate and might get lonely.
And something else was calling me. I had a short list of ,V-Twin, semi upright position, loads of tourque, character, noise and cred. I rode a Buell Lightening Long and was very impressed. It surprised me how well it went and handled. The riding position was good for me and I did'nt feel overly cramped. I rated it pretty highly.
But, I was booked in to ride a Ducati Hypermotard last Friday, so I did.
This was the maddest thing I could imagine on two wheels. In fact I can only describe it verbally and do so in this podcast. On the same day I also rode the Ducati Monster S4R and if I describe the Hypermotard as absolutely insane this has gotta be described as insanity in a suit.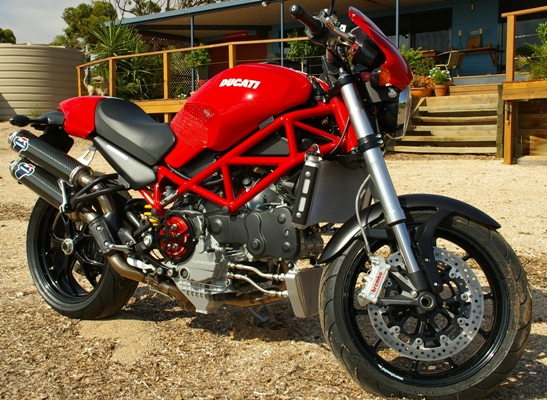 VERSUS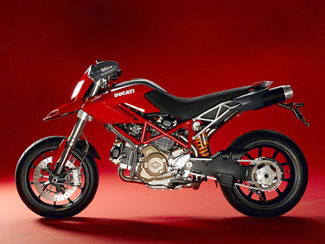 Suffice to say when I got back from both rides I described each one to the Sales guy Sam. I said the Hypermotard was like riding a wild boar in the bush, never quite in control and almost allowed to be on board rather than the boss, and the Monster was like riding a circus Tiger, you think you've got it all under control, until one snap and your back in the jungle at the beasts mercy. If none of this makes any sense to you? Better listen in as I describe it better, I think?
Not a technical review, with no horsepower figures quoted but plenty of seat of the pants feedback.
Click below for Audio Review:
Tell me what you think!
Got a Comment? Email me here and I'll publish your comment underneath.