Perth to Pinnacles Desert and Back

By Guest W.A. Reviewer: Bruce Tuffin

The Pinnacles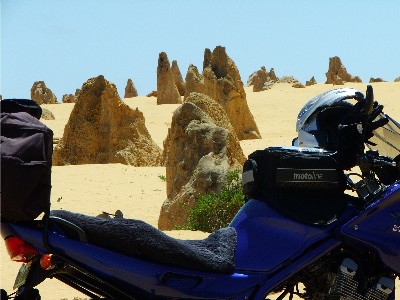 Much of the area north and south of Perth is scrubby coastal plain. It's quite flat and generally unspectacular. With one or two exceptions, the roads are pretty boring for motorcycles.
That's not to say that there aren't some quite outstanding destinations, however, and the Pinnacles Desert, in the Nambung National Park about 300 kilometres north of Perth, is one of these.
It's possible to make a day trip out of it, but our decision was to overnight in Jurien Bay, then early the next morning head down the coast to Cervantes, on to the Pinnacles, then back home via Gingin.
The most obvious route would be to race up the Brand Highway and turn left onto the Jurien Road and bingo! The trouble is, the Brand Highway is not a road I feel comfortable on aboard a motorcycle. It carries a lot of traffic, and much of that is heavy haulage. When trucks, cars and motorcycles want to occupy the same patch of tarmac, it's inevitable that the latter will come off second best. You can't avoid it altogether (until the new coast road north from Lancelin is completed), but you can keep down the time you need to spend on it.
So it was that we headed north along Wanneroo Road. It gets busy too, but at least it's mainly cars and other motorcycles … plus the usual grey nomads. The road is in good repair, but has had some horrendous accidents as a result of poor overtaking and speeding. Rather than upgrade the road, the WA government has responded by reducing the speed limit to 90 kim/h until well beyond Yanchep. This aggravates people who tend to put their foot down. As a result, keep your eye on your speedo, because the police love setting up mobile speed traps in the area.
Once into the 110 km/h zone, things are swifter. There's not a lot to see, unless you turn off into one of the coastal towns like Seabird or Guilderton, just a few minutes off the main road, which now has had a name change and is Lancelin Road, because it goes to … ummm … Lancelin.
However, ten kilometres before Lancelin, you turn right onto the KW Road. There are one or two nice viewing spots along here, where you top a crest and the plain opens up in front of you. You'll run into a T-junction some five or six km further on. Take a right-hander into Sappers Road. The road meanders somewhat, but it's a good road and generally light on traffic. After about 16 km, start watching for a small crossing over a stream. (If you want to stretch, you can pull off the road at the bridge.) Just a short distance on, take a left into Orange Springs Road. While this doesn't exactly have any twisties, there are, at least, a few bends to keep you amused! Twenty minutes or so should see you at Brand Highway, where you turn left. Unless you need an urgent stop at Reagan's Ford roadhouse, Cataby, just a few km further up the highway, is a good place to have a break. Well, truthfully, it's about the only place to stop after Reagan's Ford. It's also slightly confusing if you don't know about it because there's really nothing there, except for two roadhouses, about three km apart! They're both typical country roadhouses but I tend to prefer the southernmost one, the Ampol – the one you'll see first. It has toilets, food, fuel and outdoor shaded seating and tables. The northernmost roadhouse, the BP, has another advantage, however: it has a hotel/motel attached.
Back on the highway, and in about 30 minutes you need to start looking for the turn-off to your left, onto Bibby Road. This is a good sealed road, with only light traffic. Do keep an eye out for the second largest wind farm in WA on your left – not that you could actually miss it! There are 48 wind towers on the Emu Downs wind farm, and they appear to march over the horizon as you approach, like Martian fighting machines in War of the worlds.
The next turn is only 10 or so minutes down the road; another right-hander into Munbinea Road. This terminates at Jurien Road and you turn left towards the coast. In just a few short minutes, you're pulling into Jurien (Bay).
Jurien was given its name in 1801 by the French Baudin expedition, which explored the coastline. A fishing town, it has become something of a "seachange" destination, attracting local retirees as well as those looking for a lifestyle change or a holiday resort. Consequently, it has a range of accommodation, from backpackers to camping grounds, from hotel-motel accommodation to B&B, as well as luxury home rental.
We stayed at the Jurien Bay hotel Motel in Padbury Street (behind the shopping centre off the main road). It's a typical country pub with separate motel units clustered around a pool. Built, I would guess, in the 60s or 70s, the units were basic but clean and comfortable. When the manageress booked us in and saw we were on motorbikes, she gave us inside rooms and let us ride the bikes down the veranda and park them outside our room – literally – rather than have them visible from the road. That was much appreciated.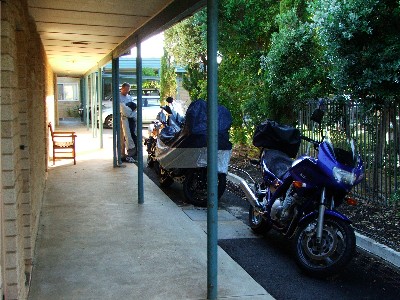 Jurien Bay Hotel
The dining room was a bit of a surprise. It featured good solid pub fare, plus a "set" menu which was, in effect, a tiny buffet from a bain marie. No-one had any complaints about the food. The pub had a live band that night which intruded on our sleep patterns only briefly.
Breakfast was included in the tariff and cooked to order and served in a bright, sunny room alongside the dining room. The food all up was reasonably priced and filling and well recommended – as is the hotel/motel itself.
Inside The Room
There's plenty of petrol stations and as many shops as you could possibly need, including a brand new supermarket. Repairs are also available if, heaven forbid, you need them. While fuel was, obviously, more expensive than Perth, it wasn't horrendous – and the people at the service station were lovely.
From there, it was an early morning ride, back out to the main road, continuing through town, and south to Cervantes. This is a fun piece of road to ride, especially early morning as we did it. Most maps show it as broken, not going through to Cervantes, but that's not true. It's new and sealed all the way. Cervantes itself is no different from most small coastal towns. It has sufficient amenities but not many of each! The roadhouse at the edge of town does a nice line in fast food and has a small "dining room" annexe to one side, where you can enjoy your meal and a coffee, as well as fuel and basic groceries.
The well-signposted road to the Pinnacles is just out of town. It's a great road, with some good curves and twisty bits but, sadly, CALM has seen fit to keep speed levels down to the ridiculous.
Once at the Pinnacles, you'll need to pay to get in, but it's only a few dollars for a motorcycle. There is a desert loop road you can take, which guides you through the most accessible areas. There are lay-bys where you can pull over to take photos. The road is sand, but mostly hard-packed. My Yamaha Diversion on road tyres had no trouble negotiating it.
The pinnacles themselves (and there are thousands) range up to four metres high. They are limestone formations and look not unlike giant white ant mounds. The best time to photograph them is early morning or late afternoon, when the sun is long and the light warm. They are well worth seeing.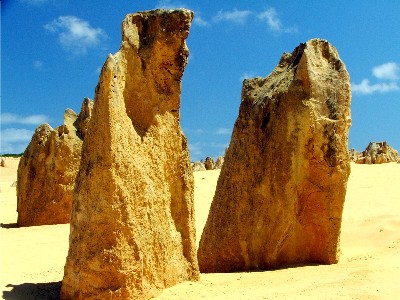 The Famous Pinnacles
Once back on Cervantes Road, follow it up to Munbinea Road (turn right), then to Bibby Road (turn left) and retrace your steps past the wind farm to the Brand Highway. This time, stay on the highway for an hour, which will bring you within striking distance of the Gingin turn-off to your left (Dewar Road). It's well signposted.
Gingin is a delightful little town. As you roll through the main street, there's a large park on the right, with picnic facilities and shade. But at its far edge is a white building with a car park out the front. This is Eliza's on Granville – a heritage building with a café/restaurant well worth the stop for a pleasant meal. The food is wholesome, not expensive, and well presented. There are public toilets as well, not 50 metres away.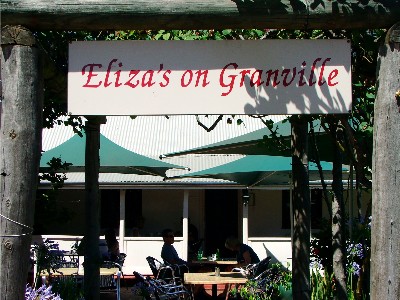 Eliza's Of Course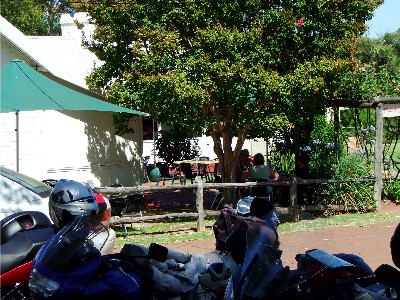 Outside Eliza's
Or, if you prefer, take the next turn right to the Gingin pub, which has been extensively renovated inside and features an interesting and reasonable menu.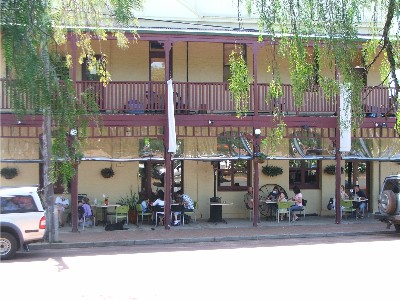 The Gin Gin Pub
Retrace your steps to the Brand Highway (it's only four km!), turn left and then immediately right onto the Gingin Brook Road. Not much to see, but it's only about 16 km to the turn-off – left onto Military Road. (A quick aside: On this corner, on the right, is Willowbrook Farm Tearooms. This is well worth the day trip from Perth!)
On your left, about halfway down Military Road or a bit more, is the Gravity Discovery Centre. For anyone with even a passing interest in the stars, the cosmos and the big questions of life, this is a must-see. It has telescopes, galleries, guides and is situated right next to a major observatory.
Just a few minutes later, you're at Wanneroo Road. Turn left and you're in Perth not much more than half an hour later.
There you have it. Total distance for two days is somewhere around 600 kilometres, which is just about right, especially if you're carrying a pillion. It's all tar and all good tar. You can find the route easily on Google maps and print yourself out a map and written route directions. It's a weekend well spent.
Publishers Note: I reckon Bruce did a fantastic job of describing this great ride. If you'd like to see your favourite ride on the site, no problems! I can interview you over the phone and publish in audio podcast form, or you can write one, just like Bruce. I will do whatever I can to make it easy for you.
Cheers
Andy Ireland
Got a comment? and I'll publish it below this article.. Cheers!