Airhawk Motorcycle Cushion

The Airhawk coushion seating system has been thrashed and tested to extreme. In this podcast Andy describes how the Airhawk system works, how it fits, comfort and health problems it alleviates and whether it deserves the hype as the best motorcyle comfort accessory.

I've used an Airhawk for ovber 70,000k's now. Around 30,000 k's on a Harley Davidson Wideglide and over 40,000 and counting on a BMW R1200GS.

The trick is to not overinflate the cushion. Simply inflate the Airhawk with your mouth seal up the inlfator screw and throw it on your bike. Jump on and slowly let the air out until you are supported off the seat by only a few millimetres.

The object it get a small air buffer between your butt and the seat. You should be able to "slide" around on the seat with the Airhawk cushion acting as an air memebrane seperating you from the actual seat.

In the Audio Review below:

After a trip to Alice Springs we get the impressions of a large pillion rider who shared the ride on two BMW R1200GS's. One with an Airhawk fitted to the pillion seat and one without. This ride also saw an Airhawk get shared between several riders on different bikes and their impressions. If you've ever thought of buying an Airhawk you better listen to this Audio Review.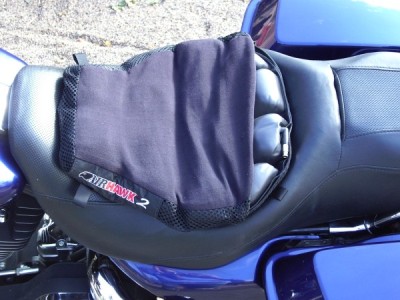 This Airhawk Cushion is on a Harley Street Glide.
This is the Airhawk Pillion Cushion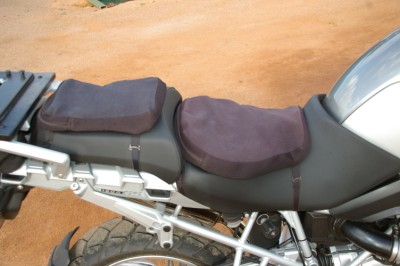 You can see how the Airhawk Motorcycle Cushion fits for both the rider and the pillion.
Sore bum? you'll find one! The Airhawk Cushions fit almost everything form M.V. Augusta, Aprilia, BMW, Buell, Ducati, Harley, Honda, Indian, Kawasaki, KTM Moto Guzzi, Suzuki, Triumph, Victory, Yamaha and almost every model and probably a few others.
Click below for the Audio Review:
Tell me what you think!
Got a Comment? Email me here and I'll publish your comment underneath.
Comment From:
Tung
This sounds perfect. I commute daily on a sports bike and find that Sydney roads literally pain in the butt. The Airhawk sounds like a great way to soften the riding experience without painful or expensive fiddling of the suspension. Great review, thanks. It takes the risk out of purchasing often expensive biking accessories. CHEERS !