Pillion Security On A Motorcycle? Try a Pillion Strap.
Recently I interviewed Andy White of Andy Strapz fame about his company and all the cool gear he makes for us motorcyclists. One of the things out of his catalogue that we talked about was the Pillion Belt.
After always having bikes with topboxes or sissy bars I never had a pillion who was worried about sliding off. So although it seemed a good idea I'd never really thought about it. If I was more observant I would have known I just went to Phillip Island with one guy who had one and used it on the trip with his son. So, a few weeks after the G.P. trip……..
On a poker run I noticed Dutchy strapping something on and I said whoa! let me look at that thing. It was a pillion belt. He explained how useful it was to his son Callan and how Callan always looked for it on the bike.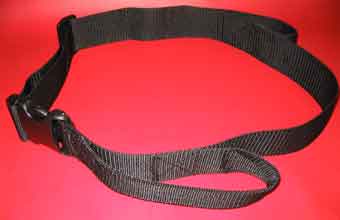 So I asked Dutchy about the strap on thing and here's what he said.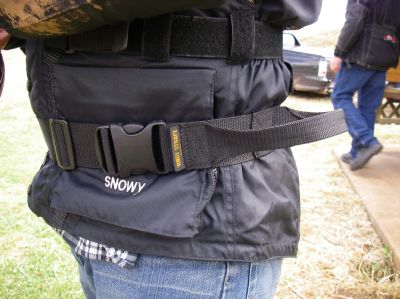 But first here is a side on view showing the very sturdy clip on Dutchy's pillion belt.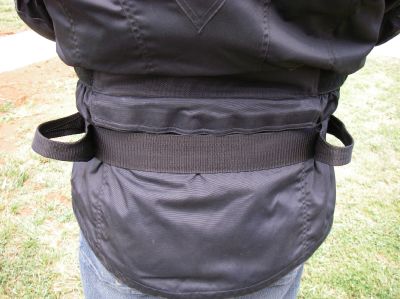 On this rear shot you can see how the handles sit out for the pillion and I can imagine the security they add to someone sitting on the back of many of today's bikes, with small pillion seats!
Dutchy said his son Callan, loved it. They had ridden together on the previous Ducati Monster and now the 2007 Triumph Speed Triple. Callan is about 150cm's tall and looks for the strap when going riding. Dutchy told me Callan really misses it when they forget.
Having seen this Pillion Strap up close and personal now I can say it looks real good. In fact I reckon if I'm going to get Elana on the back of the new bike (Ducati Monster S4R Testastretta) I will need something like this. On the poker run Dutchy and I were on, there was a couple on a Yamaha R1, and she didn't look comfortable on the back and was trying to hang on in several ways, none of them tidy. Can't help thinking this would have made her day way more comfortable.
If you carry a passenger regularly on a sports type bike this could be well worth a thought to keep the pillion happy and in the right mood for the after ride party. And maybe save a few bruised ribs.
Cheers
Andy
Tell me what you think!
Got a Comment? Email me here and I'll publish your comment underneath.