Boostaroo Amplifies Helmet Speakers or Any Portable Speakers For That Matter
After fitting speakers into my helmet see REVIEW I found the sound level wasn't quite loud enough. Part of the problem I later discovered was a dodgy cable and mostly resolved after replacing. However this small amp works a treat. It raises the volume about 12db which in real world is good. Certainly enough to blow your eardrums out with your ipod with speakers inserted in your ears.
I was using through helmet speakers wearing earplugs. Without the boostaroo and a reasonably calm (not windy) day they work fine to hear some music and the GPS directions. Not loud enough to boogy to but serviceable. With the Boostaroo the audio is loud enough for any day. Still not boogy level but loud enough to destroy the speakers over time I reckon.
If you are not using earplugs then amazing sound!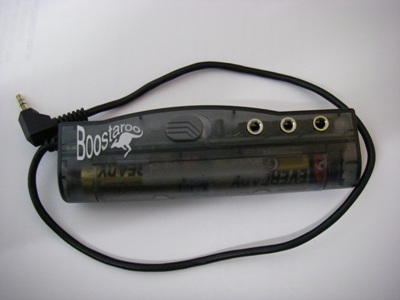 It takes two AA batteries and will power three speaker sets. So ideal to plug the pillion in as well.
I bought it HERE and cost was $48.95 plus shipping. Service and shipping was pretty quick and no gripe about anything with that.
In this Audio Review: (its short)
Value for money:
Build Quality:
Real World Workings:
Battery Life:
Ease Of Use:
Click the Audio Button below for Audio Review.
[XMLLINK0000000010]
Got a Comment? Email me here and I'll publish your comment underneath.