Touratech 01-040-0274-0 handlebar risers for the BMW R1200GS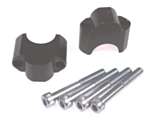 I bought these little suckers just before my ride to the Phillip Island Grand Prix. I had always felt a bit stretched to the bars. I am 179 cms and also use the Airhawk Seat Cushion which sits me up another cm or so.
The seat adjustment I use is high on the front and low on the rear and this seems to keep the seat nice and level without wanting to crush your nuts on the tank by sliding you forward as the other settings are want to do.
The risers make it way easier to manage the bike standing up and is much more comfortable when riding that way. Also my arms are much more relaxed and found the bike was easier to ride smoother and quicker.
I explain all in the Audio Review. Have a listen and leave a comment by hitting the comment link below.
Click below for Audio Review:
[XMLLINK0000000010]
Tell me what you think!
Got a Comment? Email me here and I'll publish your comment underneath.