Casey Stoner and Valentino Rossi Collectables, Want One?
If it was a limited copy of only 100 wouldn't that be nice. Well, you know there was a limited release of a collectable photo of Casey Stoner done, and it's sold out. But this is what it looks like. I wonder if the price has gone up now he is the world champion?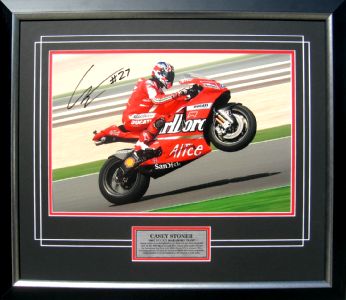 This photo was taken at Casey's first GP win at Quatar this year (2007). Looks' cool! But check out what else I was able to get my hands on.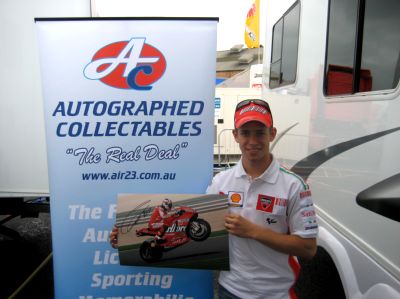 This is one of the authentication photo's taken when Casey was signing the photo above. Cool stuff eh? I was introduced to the world of Motorcycle Collectables at this years Phillip Island Grand Prix when I strolled into the stall from "Autographed Collectables" and met Miguel Ramos the Director of the company.
I was mightily impressed by the quality of the framed collectables, photo's, knee sliders, articles of clothing and even the odd boxed/framed helmet. All of them autographed and authenticated as originals. There wasn't too much there I wouldn't like hanging on my walls or taking pride of place in my party/bar room if I had one.
Because of the quality of framing each piece had a real physical presence, it was'nt like a plain poster. It stood out and commanded attention. I can see now why people get hooked on this stuff. If you think about it, having a piece of authenticated memorabilia like this gives you some sort of physical connection with your sporting hero. They actually touched it and spent a small part of their life concentrating on making it look good.
Interviewing Miguel was an eye opener into the world of the collector and also explained to me how to make sure what ever I collected had the best chance of being real and not getting ripped off.
Miguel's Motorcycle Collectables website link.
If your a collector or want to be then you need to listen to this podcast with Miguel. I sure you'll learn something, I learned heaps.
Click below for the Audio Review:
[XMLLINK0000000010]
Tell me what you think!
Got a Comment? Email me here and I'll publish your comment underneath.