Vario Screen Solves Buffeting Problem of Standard R1200GS Screen.
Don't know about you, but the buffeting of the standard GS screen used to send me batty. Yet my mate who is shorter (I'm 180cm) never seems to have a problem with his bike. I'm not even sure if buffeting is the right word? It just used to rattle my helmet. I tried two different helmets and it rattled them both. It sems the standard screen disturbs the air at a particular height above the screen and you either cop it or you don't, depending on your height in the saddle.
After 30,000+ k's I decided I'd do something about it.
One of the options was an extension but they looked a bit tacky and the lower mounts needed strengthening also. I also felt it would permanently mark the original screen. I also couldn't find anyone who would or could categorically state that this fixed the problem anyway.
After searching the bike mags for an ad that instilled me with confidence I gave Mick Owen a call in Canberra. Mick was very helpful and spoke authoritatively about the problem and a remedy.
He suggested the Vario split screen! Its a bit taller and is in two sections which seem to split the air and take the volume out of the disturbed air.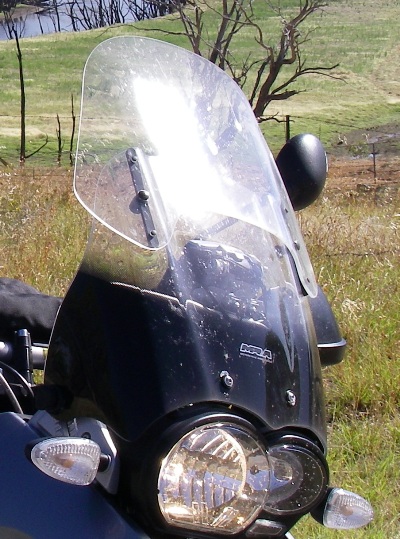 In the pic above you can see the split. Also note the adjustment between the screens. I have mine at full height.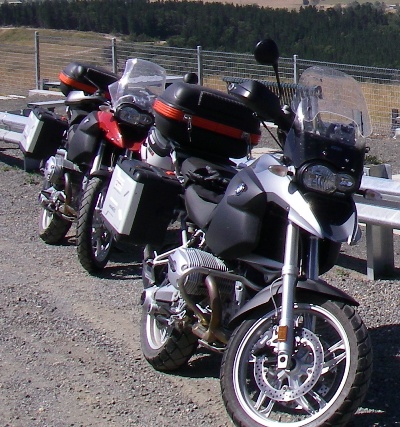 In this pic you can see the difference between Vario and Standard screens on the bikes.
Got some remarks that the screen looked better and tell the truth I reckon it did.
In this podcast I talk about: About 8 minutes
Whats in the box:
How easy does it fit:
Quality:
Adjustment settings:
Is it any good?:
Click below to play the Audio Review:
[XMLLINK0000000010]
Tell me what you think!
Got a Comment? Email me here and I'll publish your comment underneath.